Stress-free HR Services built for profitability.
Outsourcing your human resources (HR) management duties is a big commitment. With Employer Flexible, you're never in it alone. No hidden costs, no promises we can't keep — just the insight and reliable guidance you need to make managing human resources issues more effective. We make the PEO relationship less about paperwork and more about people coming together in a strategic approach to impact your bottom line.
Complete Human Resources Management
Reducing the burden of human resources is the number-one role of the PEO, but it's only the first step. Employer Flexible helps you get the most out of your employees so you can build a roadmap for aligning your workforce with your business strategy and, ultimately, achieve your vision.
Human Resources Information System (HRIS)
Very few PEOs offer the high level of technology to small and mid-sized companies that we do — and at such reasonable costs. Our innovative, web-based human resource management system, MyHR, provides a smarter way to gather, organize and manage all your HR information in real time:
Time off requests
Onboarding and employee life cycle (hire to retire)
Employee Engagement
On average, engaged companies enjoy 3.9 times* the growth rate of companies whose employees feel actively disengaged at work. We specialize in designing engagement strategies to build a profitable business environment that will:
Increase retention
Decrease absenteeism
Develop leadership skills
Build stronger teams (DiSC assessments)
Promote community involvement
* Gallup — State of the American Workplace 2013
Human Resources Compliance
With HR compliance regulations — and related lawsuits — on the rise, small and mid-sized businesses can ill afford to place themselves in jeopardy of violating those laws. Employer Flexible provides expert guidance to help you reduce liability and increase compliance in every area, including:
Employee relations (handbooks, policies, etc.)
Talent management
Hiring and termination
Risk and safety
Payroll and benefits
Strategic Human Resources Planning
Let's talk long-term: where do you want your organization to be five years from now? Ten years from now? Once we've gotten to know you and determined your pain points, we'll develop a comprehensive HR Roadmap to help you become the company you want to be. Among our strategic capabilities are:
HR Roadmap and assessments
Training and development programs (in-person/e-learning)
SWOT analysis
Compensation analysis
Workforce planning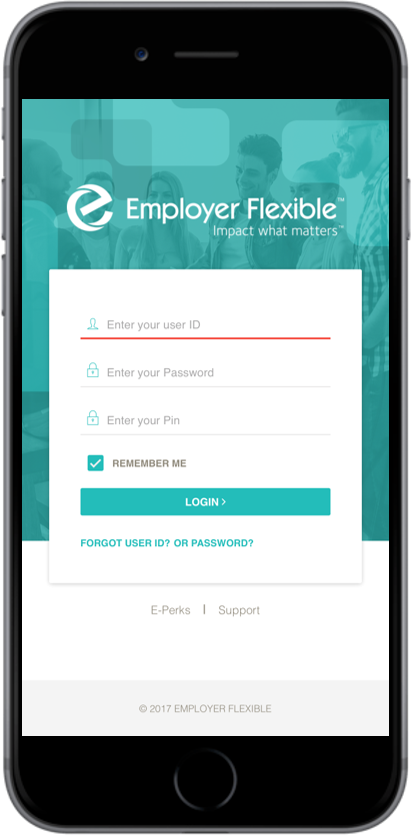 The myHR mobile app provides stress-free benefits access. Now employees can access all your important benefits information directly on your mobile device: insurance cards, payroll data, personalized support contacts and more. It's just one more way Employer Flexible makes benefits easier on you — and your team.
One-touch benefits access
Digital insurance cards
Real-time payroll access
Dedicated service team